SOFTBANK CORP.
Profil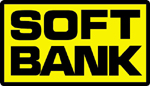 Softbank Corp began operations in 1981 as a distributor of software fo PCs, the first step on the road toward achieving its vision of becoming the world´s leading infrastructure provider in the information industry. Softbank has grown over the years by enlarging the software distribution business, adding a publishing arm, and then rolling out businesses related to the narrowband Internet. Today, the Softbank Group has evolved into a diversified corporate group with a large number of powerful Internet brands.
Snice the mid-1990s, the Softbank Group has followed a clear policy of concentrating management resources in the Internet domain. In 1995, an investment was made in U.S.-based Yahoo! Inc an Yahoo Japan Corporation, the Japanese arm of this company, was established the following year. One of the first companies to spot the potential of the Internet, the Softbank Group has been a driving force behind the popularization of the Internet business in Japan.
Today, the Internet industry is entering its second stage of growth, one that is driven by broadband network. Since the extablishment, Softbank had the foresight to anticipate the arrival of this era. This foresight was behind the September 2001 launch of the Yahoo! BB comprehensive braodband service. Softbank view the advent of the IT society brought about by the IT revolution, the third great social revolution, as a rare opportunity, an event of the same magnitude as the agricutural and industrial revolutions. Drawing on more than two decades of knowledge, experience and technology in the IT industry, the Softbank Group is now directing its collective strengths to the broadband business domain.